ORIGINAL SCREENPLAYS WGA Registered Screenplays
Slapping Plastic and Changing Time Zones may be available on request
Slapping Plastic, Original Screenplay, Romantic Comedy. 5 friends frustrated by credit card debt and unfulfilling lives concoct a scheme to make their bills go away and their dreams come true while gambling on love and an inventive lottery scheme dedicated to uncovering and pursuing their passions. Romantic Comedy. Writer's Guild Registered. 110 pages. Originally Optioned by Fox Searchlight Pictures.
Changing Time Zones, Original Screenplay, Drama. The death of his mother brings ominous changes to the otherwise simple law student's life - and news about a Czech father he never knew. He drops out of law school and goes to Prague in the 90's where he befriends a local political activist and becomes involved with a woman as they - and the newly democratic nation -- deal with their growing pains and velvet hangovers while coming to terms with their pasts and their futures in The Golden City so freshly opened to The West. Drama/Love Story. Writer's Guild Registered. 105 pages.
ORIGINAL STAGEPLAYS available on Amazon & for licensed production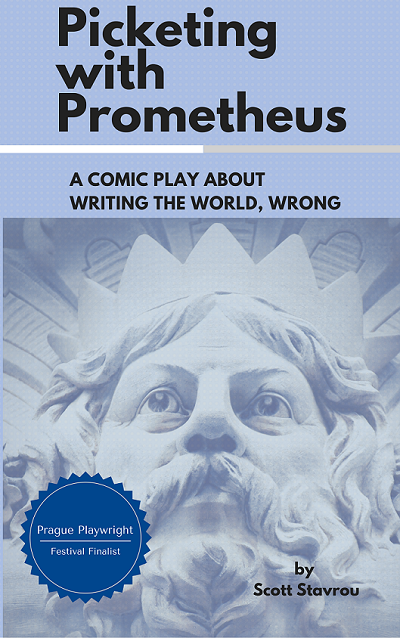 Picketing with Prometheus finalist in the Prague Post Playwright Festival, 2008
Originally produced for the Prague Post Playwright festival, Picketing with Prometheus, reprinted for the first time here, is a comic stage play about all that goes wrong when you write the world. Hilarity ensues when Head Prophet Moses Destiny and his ambitious young sidekick Will Freed are on strike from the thankless task of writing mankind's destiny. Worried that mankind is floundering without their guidance, Moses and Will, along with a little help and inspiration from Jesus, who runs a popular little taco truck just outside the Pearly Gates, decide to get popular talk-show host and minor media god Steve Prometheus on their side in order to take their case to the people and the divine powers that be. Can even Steve Prometheus help them convince man or God that they're still relevant in these post-modern times? Do they – or mankind – have a future in the business of writing the world or has it all gone too far wrong?
Sit back and enjoy the follies and foibles of mankind's past as they all try to work together to see if mankind might have a future. Irreverent and endearing, Picketing with Prometheus dishes up big laughs as it explores the very nature of mankind and free will.